Products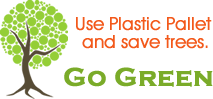 Product Details
Product Code : ISP IBC TWIN
Item Description
Ercon IBC Bund Pallet
Overview
Welcome to Ergen Plasric Industries, where we bring you the cutting-edge solution for spill prevention and environmental compliance – the Ercon IBC Bund Pallet. This innovative product is meticulously designed to meet the highest industry standards, ensuring the safe and secure storage of hazardous materials in Intermediate Bulk Containers (IBCs).
Key Features
Robust Construction: Manufactured from premium-grade polyethylene material, the Ercon IBC Bund Pallet boasts exceptional strength and durability, capable of withstanding the rigors of industrial environments.

Leakproof Design: Our IBC Bund Pallet is engineered with a seamless, weld-free design that guarantees a leakproof containment system, preventing spills, leaks, and drips from escaping.

Ample Sump Capacity: With a sump capacity of 1200 liters, this spill pallet effectively contains any spills or leaks, ensuring no hazardous substances reach the surrounding environment.

Accommodates Two IBCs: The Ercon IBC Bund Pallet is designed to accommodate two IBCs simultaneously, maximizing storage efficiency and optimizing space utilization.

Forklift Accessibility: Featuring built-in forklift pockets, our IBC Bund Pallet allows for easy and safe handling, transportation, and positioning of loaded pallets.

Convenient Drain Plugs: The included drain plugs facilitate hassle-free drainage of collected liquids, streamlining cleanup and maintenance procedures.

Chemical Resistance: Engineered for compatibility with a wide range of hazardous materials, ensuring safe storage and minimizing risks.
Compliance and Certifications
OSHA: Our IBC Bund Pallet complies with OSHA (Occupational Safety and Health Administration) regulations, ensuring a safe workplace environment.

EPA: In line with the stringent standards set by the Environmental Protection Agency, our product guarantees environmental responsibility and protection.

SPCC: The Ercon IBC Bund Pallet is an essential component of your Spill Prevention, Control, and Countermeasure (SPCC) plan, fortifying your commitment to spill prevention and containment.
Benefits
Ensures compliance with regulatory norms, safeguarding your business reputation.

Provides an effective secondary containment solution for IBC storage.

Reduces the risk of spills, leaks, and environmental contamination.

Optimizes space utilization with dual IBC capacity.

Facilitates easy handling, transportation, and maintenance.

Enhances workplace safety and environmental stewardship.
Use Cases
Our Ercon IBC Bund Pallet finds applications across various industries, including but not limited to:
Chemical Manufacturing
Pharmaceutical
Oil and Gas
Logistics and Transportation
Industrial Manufacturing
Your Trusted Environmental Compliance Partner
At ERGEN PLASTIC INDUSTRIES, we are committed to delivering top-quality products that ensure environmental compliance and workplace safety. The Ercon IBC Bund Pallet is a testament to our dedication to providing innovative solutions for spill prevention and containment.
Share